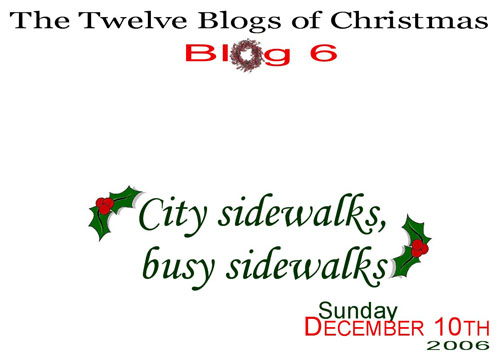 It's a sure thing that by this time of year, you are fed up with the hustle and bustle of the holiday season or if you are Joel Steingart - Home Depot employee, you got sick of it about 3 weeks ago when they started playing the holiday music at work.
Hustling and bustling is no different here in Korea, in fact it's a way of life! The Korean people always seem to find somewhere to get in a hurry. They are walking the streets, riding the bus or subway and jamming the roads in and out of Seoul. Case and point was the other day when we went shopping and it was like rush hour even with the shopping cart!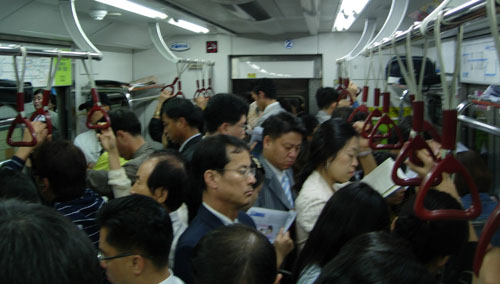 Not much room left for breathing on the stuffy Seoul subway. The most reliable way to get around town is also the most congested.
Now that it's the Christmas season, you can multiply the business factor here by 3, and that means a lot of people running around the stores, clogging the subway and the sidewalks, spending the all mighty dollar. But definitely our favourite part of the season is all the Christmas lights everywhere. As our quest for more amazing lights continues around town, we leave you today with these pictures from Jamsil - a neighbourhood in Seoul home to the Lotte Complex (Lotte World, Lotte Mart, Lotte Department Store, Lotte Hotel etc...)
Silver bells, silver bells
It's Christmas time in the city
Ring-a-ling, hear them ring
Soon it will be Christmas day

City sidewalks, busy sidewalks
Dressed in holiday style
In the air there's a feeling of Christmas
Children laughing, people passing
Meeting smile after smile
And on every street corner you'll hear

Silver bells, silver bells
It's Christmas time in the city
Ring-a-ling, hear them ring
Soon it will be Christmas day
Silver Bells
Words and music by Ray Evans and Jay Livingston