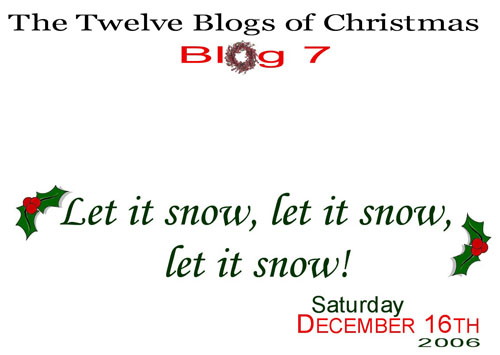 Last night we went out to buy a couple snacks after a long week of work, the weather was the same as it has been for the past month: -1°C, no chance of precipitation and cold. That was at 9:30 pm.
At about 12:15, I heard a scraping sound outside. The sound continued until I realized it was a very familiar Canadian sound... it was a walkway being shoveled. I opened the window and what to our wondering eyes did appear but a Korean snowfall - winter was here!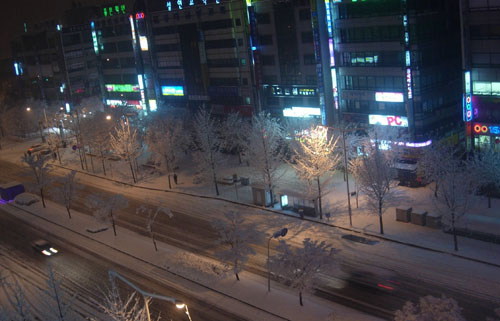 Snow makes for a beautiful winter image along the
main street in our neighbourhood
It was snowing in Korea! While we were preparing ourselves for a Green Christmas we were delighted that on December 16th, Christmas spirit arrived in the form of white frozen precipitation from above. So without any regard for the time, we put on our winter clothes and headed out into the snow for a nice winter walk.
This wasn't just your usual beginning of winter wet snow that melts before it can stick to the ground. No, this was a serious dump of snow (although rain is in the forecast for later on this week) the festive mood is alive and well here.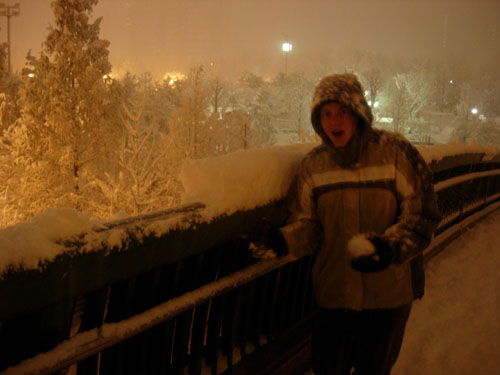 Jillian shows off the 6 inches of snow that fell in about 3 hours time. Notice that she is holding a snowball, this was used for protection from Chris, who was building snowballs all evening.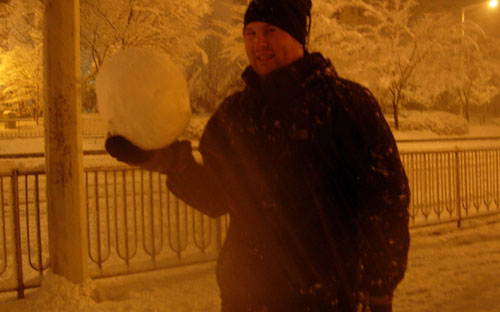 One funny thing that we noticed right away, which sort of makes sense here, but to Canadians - why bother: Koreans walk around in the snow carrying umbrellas. It never occurred to us to do something like that (likely because back home you would be fed a steady diet of snowballs if caught) but we were impressed with the new innovation - although Chris says he will remain true to his Canadian roots and resist the umbrella... for now.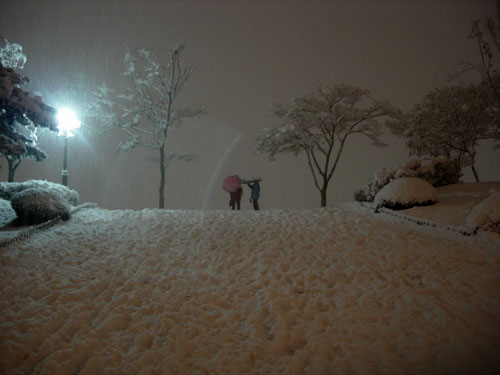 Two women stand in the falling snow near Central Park, protected by their umbrellas, while a couple walks down our street sheltered from the snow.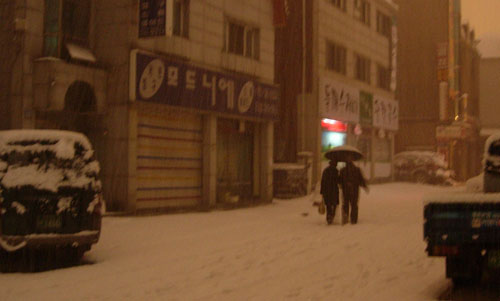 Another endearing quality of snow is its cleansing nature. The dirty main streets around our neighbourhood with garbage strewn about was momentarily purified by this blanket of snow. Because it was so wet it clung to tree branches making it twice as beautiful.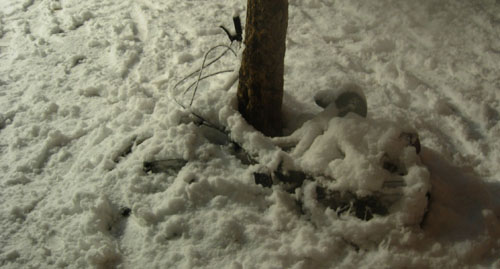 Look closely and you will notice that this is a bike covered by the freshly fallen snow. Below is the view that we first saw from our apartment - beautiful!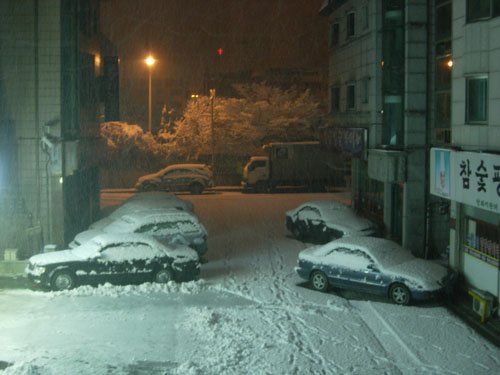 While this snow may melt, and likely quite quickly, we were delighted for at least a night, that another Christmas feeling was here, and with it another seasonal song of course:
Oh, the weather outside is frightful,
But the fire is so delightful,
And since we've no place to go,
Let it snow, let it snow, let it snow.

It doesn't show signs of stopping,
And I brought some corn for popping;
The lights are turned way down low,
Let it snow, let it snow, let it snow.

When we finally say good night,
How I'll hate going out in the storm;
But if you really hold me tight,
All the way home I'll be warm.

The fire is slowly dying,
And, my dear, we're still good-bye-ing,
But as long as you love me so.
Let it snow, let it snow, let it snow.
Let it Snow
Words and music by Sammy Cahn, Jule Styne written - 1945