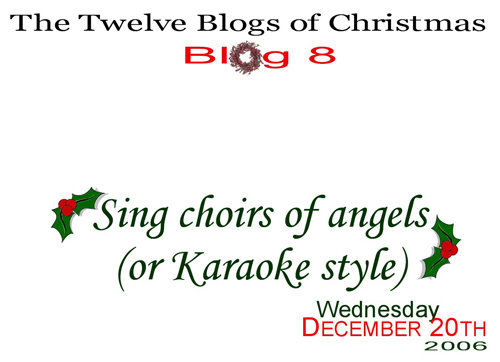 Last week, before the snow fell we headed out after school to share some Christmas cheer with some of our fellow teachers. We also welcomed a new teacher: Neil, who hails from Montreal. So here is an account of what you can expect on a typical 'night out' in Korea.
We headed down the street to Beomgye (a street of restaurants and bars) where we reached our destination: Garten Bier. This place is a 'german' style restaurant/bar that serves - many different kinds of foods, and of course you guessed it... beer. The other appealing thing about Garten Bier is its tables. Each table in the restaurant has a recessed 'cup holder' that keeps your beer mug cool, what will they come up with next?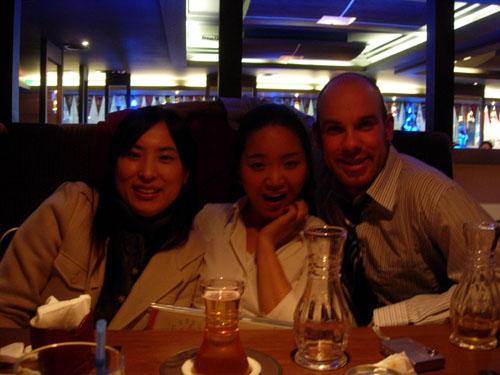 Some of our fellow teachers: Hyun-ok, Min-ji, and Paul
(notice the cup holder in the centre)
The bar food selections were diverse to say the least. You could get anything from fried chicken to stir-fried snails, a fruit platter to some Korean-style noodles, questadillas to some meaty plate combined with cabbage and tofu... also present on the table, something no Korean night at the bar should be without, was soju. Soju is a Korean fortified wine, that tastes more like vodka, yet only half the strength (19.8 %) and is commonly consumed in shot form. Jill tried it once, and Chris usually manages to have one shot every once and a while. soju is really cheep, a 500ml bottle costs about $1.00 Canadian! and the Koreans really love it! We Canadians often make fun of the Koreans as we pour a splash of soju into our 4.5% beers and then exclaim "there, now it's strong enough to be Canadian beer!"
Jill and Min-ji

(Below) some of the other teachers, notice the green soju bottles - a Korean drinking essential.
A typical Korean night at the bar often consists of 3 stops: dinner, drinks and Karaoke. Since we combined Dinner (or snacks) and drinks at Garten Bier we were next able to head to the Karaoke bar.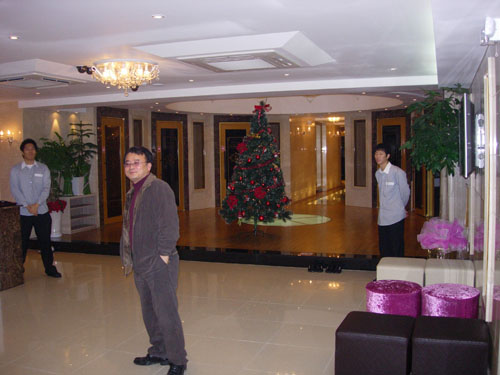 The lobby of the Karaoke bar - notice all the individual rooms and the staff waiting to assist you. No Silver Spur!
Different from Karaoke bars back home, Karaoke is an event between you and your friends. Unlike the Silver Spur or EJ's where you sing in front of the whole bar of people who you don't even know, in Korea your group is given a room, furnished with couches, a big screen TV, and couple microphones, tambourines, and song selection books.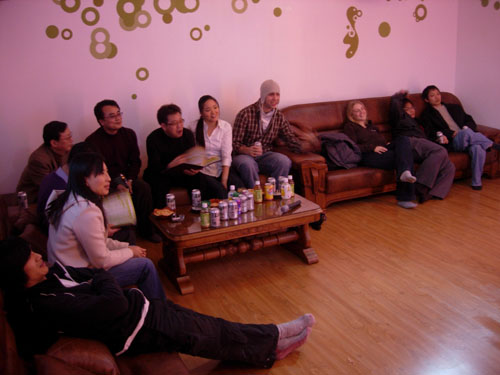 The interior of a Karaoke room, couches face a big screen TV where the preformer sings their guts out.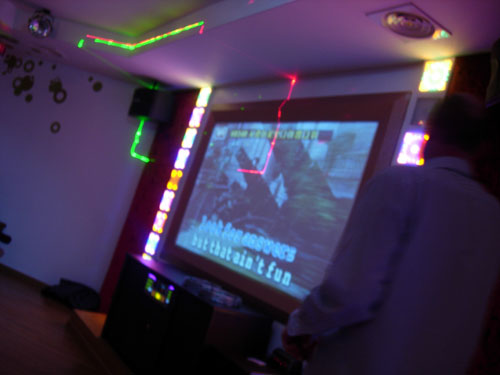 Unfortunately Jill was feeling a little under the weather (getting over a cold) so we couldn't reprise our version of 'come what may' which received a great deal of critical acclaim at our last Karaoke night. The selection at the Karaoke room was pretty good, including the latest English and Korean songs.
While we started heading home at about 3am, it really isn't that late when you don't start work until 3pm the next day. Nevertheless we are indeed older than we used to be, and can only have a late night excursion ever month or so. Today's Christmas carol, really doesn't have a great deal to do with the story except for the line that appears in the 3rd verse: in this night of Karaoke and merriment, many of us did indeed sing in exultation! But there is nothing in the carol that states "sing on key in exultation."
O come, all ye faithful, joyful and triumphant,
O come ye, O come ye, to Bethlehem.
Come and behold Him, born the King of angels;

O come, let us adore Him,
O come, let us adore Him,
O come, let us adore Him,
Christ the Lord.

True God of true God, Light from Light Eternal,
Lo, He shuns not the Virgin's womb;
Son of the Father, begotten, not created;

O come, let us adore Him,
O come, let us adore Him,
O come, let us adore Him,
Christ the Lord.

Sing, choirs of angels, sing in exultation;
O sing, all ye citizens of heaven above!
Glory to God, all glory in the highest;

Crosby Karaoke?

One of the most famous secular renditions of this holiday favourite is Bing Crosby's Adeste Fideles
O Come All Ye Faithful
John F. Wade 18th Century