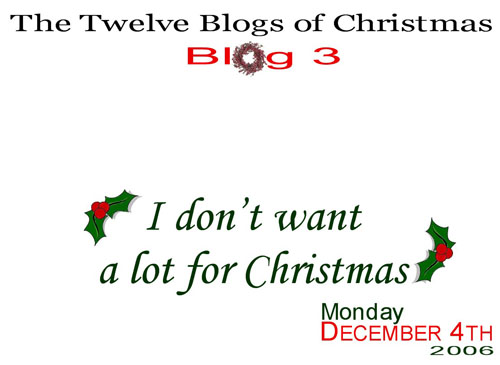 One of the things that we are asked by others every year is the age old question: "What do you want for Christmas?" And over the years that answer has changed. When we were younger we wanted the latest and greatest toy on the market. When we got older, the answer changed to "ummm well money is always good." This year being asked the same question by our parents and relatives, we have come up with a concise list made up of things that we can't find over here in Korea:
Creamy cucumber salad dressing
Chili powder
Some jeans that will fit Chris
A zip up sweater
A couple pictures and DVDs from back home
Granola bars
These things seem quite unessential and frivolous, but comforts of home to be sure. When reflecting on our list, it does seem a little pointless to be asking for material things when we have so much already to be thankful for.
On further reflection the best gift that we could possibly have (and we know this now because we are far away) is to be re-united with friends and family. To have several weeks holiday in the coming month is out of the question given our work schedule, but if we learn anything this Christmas, it is that there is a infinite value to being able to spend time with family and friends.
We were both raised by great parents who valued family and friends above all and we have not strayed from this path. Being in Korea has definitely reinforced this belief.
So as Christmas blog #3 comes to a close we encourage you to take stock of your relationships with family and friends who you are near to this holiday season, and if you are out in the far reaches of the globe like we are, then we hope that you can be comforted with a hearty meal and good memories of Christmases past.
I don't want a lot for Christmas,
There's just one thing I need.
I don't care about the presents,
Underneath the Christmas tree.
I just want you for my own,
More than you will ever know.
Make my wish come true,
All I want for Christmas is you!
I Don't Want A Lot For Christmas
from the movie 'Love Actually'