As many of you regulars to our website will no doubt notice... we have been blogging a lot more frequently. The main reason for this is the overabundance of blog-worthy material. The reason for that - IT'S SUMMER!
| | |
| --- | --- |
| Now that the temperature rarely drops below 20° and our windows are constantly open, and knowing that the rain of July and the intense heat of August are around the corner - we have been seizing every possible opportunity to get out and about town. | Summer is here and so are the blooming flowers. |
In the case of this beautiful Sunday afternoon, our object was to take a trip into Seoul to do a little biking. Since the roads are treacherous enough around the city the best place to safely ride a bike is along Seoul's major water thoroughfare: the Han River.
The Han (the name translates basically to mean "Korea's River") is one of the most popular and well known sights in Seoul. Snaking along the cities southern end the river, over 800m wide at points is a perfect place for walking, running, rollerblading, and in our case today biking.
We began our trip by taking the subway to Yeoido (Eric Lee's home neighbourhood for those of you who know Eric) and then we rented bikes and headed West towards the Seoul World Cup Stadium. Basically our bikes were terrible - Chris' was predictably short both had wonkey pedals and the shifters were bad. But basically they were perfect for piddling around the shores of the river and at $3.00 an hour we weren't ready to complain.
Pictures from Seoul's World Cup Stadium built in 2002
The world cup stadium is huge, we were really surprised that even though the world cup came and went back in 2002 the grounds around the stadium were still vibrant with many people taking advantage of the parks and shady space for a day out.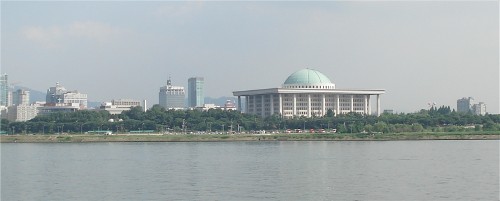 A view of the Korean National Assembly building from across the river.
On our way back we were amazed once again at the amount of activity that is visible anywhere you turn. On the river people were paddle boating, waterskiing, jetskiing and even windsurfing. On dry land, apart from the activity on the trails, people were playing soccer, basketball, badminton, having picnics and there was even a game of croquet going on.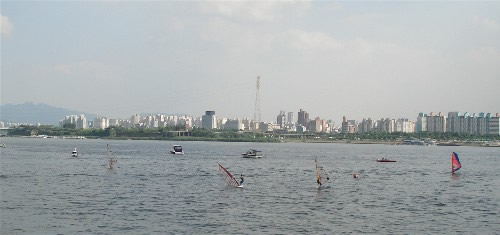 While there was a little bit of a breeze, it seemed hardly
enough for the windsurfers on the river.
We took many pictures which will continue to be posted in the coming days, and also a bunch of video which has now made it into one of our videos.