Turning another year older in Korea is a funny experience.
Today was Chris' birthday, and as if there was a need for an excuse to go out and party, Koreans love to celebrate a birthday.
June 6th in Korea is a national holiday so were delighted to have the day off (even though Chris had a baseball game) therefore we planned a little party in his honour after work finished on Tuesday night.
The peculiar thing about birthday celebrations is that Koreans mark their age at the beginning of each new year. People in Korea also mark their birth year as year 1 - which means my mother, who was born on December 30th was already 2 years old on January 1st after being alive for 3 days (her birth year plus the new year).
Given this age calculating formula we both turned 28 on January 1st 2007 even though we were still 26. When Chris' 27th birthday came along today, he was still older in Korean age.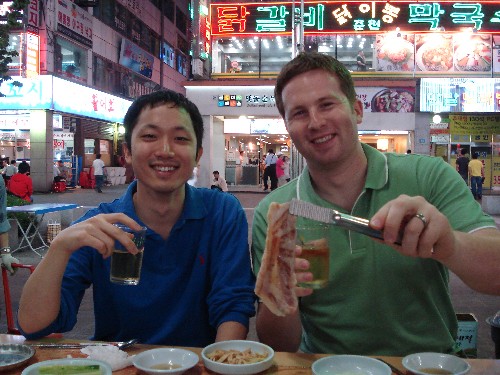 Kevin and Chris display a piece of Sam Gyup Sol, almost ready to be cut into small pieces and eaten. There are many outdoor eating places now that the weather is getting better.
Nevertheless we still headed out after school finished at 10:30 on Tuesday night to celebrate Chris' birthday. First we went to a restaurant for some Sam-gyup-sol (Barbecued pork) and a couple drinks. Then it was off for more drinks and a little birthday cake at 'Garten Bier' our favourite German themed bar.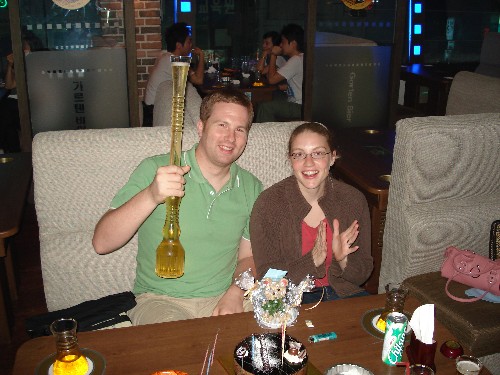 One of the giant glasses at Garten Bier if you can drink the beer in one shot you get a free meal. Needless to say we starved that night.
For the birthday boy they brought out a 2L beer (see above) with the promise of a free meal if he could down it in one shot. Unfortunately Chris recalled that he had to play baseball the next morning at 8 am so the big chug was not in his best interest.
It was great to be able to get out with so many of our work friends and share some food drinks and laughs. But Chris really missed his fellow 06/06 buddy Greg Jantzi and the good times we had together at last year's 6.6.6 birthday backyard barbeque and golf bonanza.