It was a beautiful autumn Sunday morning here in Korea, so what better way to spend it then participating in the Korean national pastime - hiking.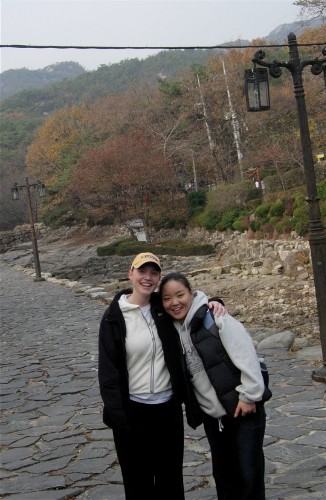 Jill and Min-ji ready to hit the trail.
Led by our friend Kim Min-ji we took a short subway ride to Gwacheon at the foot of Mount Gwanak or Gwanak San as the Koreans call it. The weather was beautiful and the fall colors were perfect as we began our 5km walk up the paths that led to the top.
As stated above, hiking is definitely the national pastime of many Koreans around town we have seen many stores that sell a wide variety of hiking gear, and now we know how they stay in business. Koreans love to spend time in the mountains and this was never as evident with the thousands of people who we shared the trail with on our way up the slopes. Each of them were completely decked out in expensive hiking hats, jackets, pants, backpacks, boots, and hiking poles. We, on the other hand, made it up just fine in sweat pants and running shoes.

(Left) Looking up to the peak of Gwanak San - only 4 km to go.

(Below) If it's solitude you seek, don't climb a mountain. The trails were full of hikers all clad in expensive hiking gear.
It took us about 70 minutes to reach the top, and we were rewarded with a great view of the foggy city below. Another attraction was the 3 temples or shrines at the summit - points of interest to many of the Buddhist hikers. All interested hikers were treated to a delicious vegetarian meal at noon in the one temple.
Right: the buddhist temple at the top of the mountain

Below: the pay off - a great view of the city below.
The trip back down was a little quicker, since gravity was on our side again. Between the fall colors and the excellent workout that we got, our hike was an excellent way to spend a Sunday morning.