blogs
pics
videos
chris' page jill's page links
contact us
home
Sunday
Oct 1st 2007

Japan Day 1

At 11 am this morning we left our apartment for the airport, destination: Osaka, Japan.

Our 6 day sojourn to the land of the rising sun (ironically no Japanese people call it that) is going to be a cultural and sightseeing extravaganza. We were met at the airport by PD, a friend of Chris' from Waterloo Volleyball days. After the train ride from the airport, we dropped our stuff off at PD's apartment and headed out to see Osaka.

Our first destination was a baptism by fire - Japan style. We hit up a sushi restaurant - a first for both of us. The restaurant was really fun, it was a round seating area with a conveyor belt style presentation of sushi plates. We tried several dishes, some of us were more adventurous than others, but we will let you guess who that might have been.

Trying some 'tuna belly' sushi
| | |
| --- | --- |
| After stuffing plate after plate into our bellies, we did a little walking tour of the Osaka night life. We walked through the Dotonbori district, full of flashy lights and lots of people. Downtown Osaka has many public arcades - semi indoor shopping roads, closed off to all cars. | Thousands of people walking through one of Osaka's many arcades |
PD is a very experienced ambassador of Japan. We found out that we are the tenth group of visitors that he has shown around in his two and a half years of living and teaching in Japan. So far some of the things we have observed or learned are:
Japan is a very clean and organized country
People drive on the left side of the road, something we've found very difficult getting used to since living in Canada and Korea
The current fashion trend for women include wearing short shorts or skirts with knee high socks or in some cases, leather boots!
The subway/train system in Osaka can be quite confusing! We thought we had Seoul figured out and then we got here.
When paying for a meal or service, you put your money on a little tray instead of handing it right to the cashier
In Japan, young people live with their parents until they get married. Due to the lack of privacy at home, they can go to establishments called "love hotels" where they can pay to stay in a room for 3 hours, no questions asked...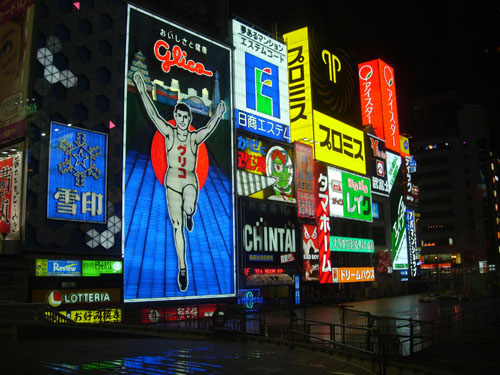 The famous wall of florescent lights in downtown Osaka
Once we had had our fill of sightseeing, we returned to PD's apartment to hang out, chat and get a good night's sleep. Tomorrow is going to be a busy day. We're going to a nearby city called Nara.