Well it snuck up on us (likely because time is flying by so quickly) But on October 30th we realized that Halloween was just around the corner. So along with a couple of the other teachers, we decided to dress up for halloween an more importantly to most of our kids, share some halloween candy.
Our selected costumes were not as creative as they could be - they were both things that we purchased in Japan. Jill wore here Kimono and Chris was dressed as the "Karate Kid." Our fellow teacher Alison also dressed up - as a princess.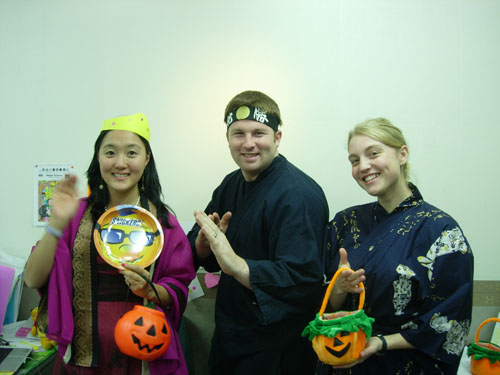 The Princess, Daniel San and the Geisha - ready to give
hundreds of kids sugar highs
Halloween, as we expected is different here. It`s one of those things that everybody in Korea knows about but nobody actually practices. Likely because Halloween is largely a Western Tradition, but also because everyone here lives in high rises. Try explaining the concept of going door to door and seeing everyone`s lawn decorations to someone who`s front door has opened into a hallway their whole life.

(Left) None of our kids dressed up but here is Alison and some of her scarier students.

(Below) Only a few of us showed our true Halloween spirit, but we had to get a picture with Daniel (one of the other English teachers) on his last day - also Halloween, before he returned home to Vancouver.
In other news, it seems like the Korean weather is a good month behind Ontario weather. As a result, the leaves have just started to change colour, and it is much cooler (around 5-15°). The days are still really nice often around 20° still nice for a run in shorts or a game of tennis in the park.
We can`t believe that we have been here for over 3 months now!!! Where has the time gone, a whole year will fly by like nothing we`re sure.
To conclude today`s blog, here are some more beautiful fall pictures of our neighbourhood that we took earlier today. Enjoy the scenery.