blogs
pics
videos
chris' page jill's page links
contact us
home
Sunday
Sept 17th 2007

school's in session

It's now been a month and a half since Jill started teaching, while I began teaching 2 weeks ago. We are both teaching kids from grades 5-9 at the Youngjae Elite School (YES) Academy. The school runs on a 2 day schedule that has eight 40-minute periods each day. We have the same classes and schedule on Mondays, Wednesdays and Fridays and then the same goes for Tuesdays, Thursdays and Saturdays. We teach from 4:30-10:30 pm each of these days, with a revised schedule on Saturday mornings.
| | |
| --- | --- |
| A picture of one of the class-rooms. Most of them are quite congested holding about 15-20 students | |
While classes start each day at 4:30 we arrive at school at around 3:00 to prepare for our classes. In my first week and Jill's earlier weeks, the schedule was a lot more relaxed because we did not teach each period of the day. Unfortunately last week one of the foreign teachers decided that he had enough of the teaching scene here and left the country. Leaving us with only 6 teachers to carry the load, which meant full teaching schedules across the board for everyone. This would not be a bad thing except we are not teaching the same class each period, instead we have 14-16 different classes in a 2 day cycle. With classes that have anywhere from 13 to 18 kids that means that we each see over 200 students 3 times each week! I know all the teachers out there are still saying "just tough it out" but it has definitely been a challenge trying to keep each of these classes straight - a real exercise in good organizational skills.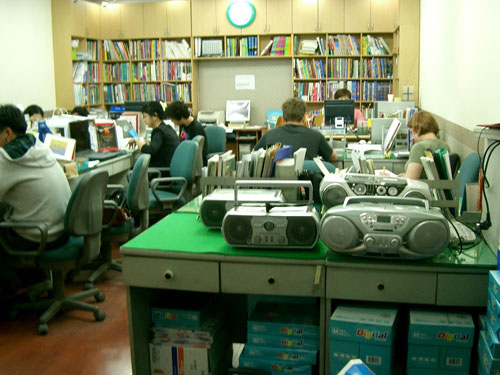 Above: a view of the teacher's office, Jill and I share the desk just behind the CD player.

Left: the other side of the office, where we can use the photocopier and the computer terminals.

The other foreign teachers have been really nice and helpful as we are learning the ropes. 2 of the teachers are from Canada and the other 2 are from Seattle and the Boston area. Jill's friend Justin (the one who told us about the job) is engaged to a Korean girl, they will be getting married next weekend, so we will definitely have a couple updates from the wedding.
| | |
| --- | --- |
| Grabbing a late-night dinner with some of the other foreign teachers | |
| | |