blogs
pics
videos
chris' page jill's page links
contact us
home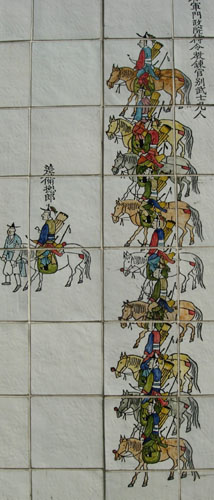 Beautiful mosaics such as this one depicting Korean warriors adorn the retaining walls of the Cheonggye stream.
Saturday
Sept 23rd 2007

a trip down the Cheonggye stream

We have both been stricken with colds this week. The cooler fall nights have caught up to us, reducing us to a pair of sniffling and coughing foreigners. To buoy our spirits, cold or no cold, we decided to head into Seoul to do some sightseeing. One of the destinations on our route was the newly opened Cheonggye Cheon - or stream. Flowing 5.8 km through downtown Seoul into the Han river, the Cheonggye stream has an interesting history.

The headwater of the Cheonggye stream looking at the first of 9 restored bridges. Notice the concrete molded 'natural looking' river edge.

For more than five centuries, the Cheonggye stream, fed by tributaries from surrounding mountains, was a key waterway in the heart of Seoul. The stream and its nine major bridges featured prominently in city life--women did laundry there, children played, merchants did business.
| | |
| --- | --- |
| Following the Korean War, the banks of the stream became a refugee shanty town. What was once the pride of the city had become a virtual septic tank and a symbol of the country's poverty. A few decades later as Seoul sought to rebuilt itself, the stream was covered by an elevated highway. | Jill taking a break beside the flowing water |
In July 2003, a project was initiated to uncover and restore the stream. The project is estimated to have cost over 900 billion won (approximately US$ 900 million) and was completed in the Fall of 2005. It was a major undertaking, as not only did the highway have to be removed, but years of neglect and development had left the stream nearly totally dry. As a result, 120,000 tons of water are pumped daily into this symbol of civic pride.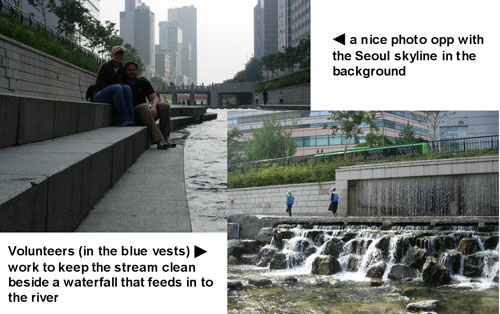 History lessons aside, we had a great morning walk down the stone laden river-side, just what the doctor ordered. Walking along the restored waterway and bridges really helped to restore our energy for the week, we are still a little under the weather, but the trip into Seoul didn't hurt.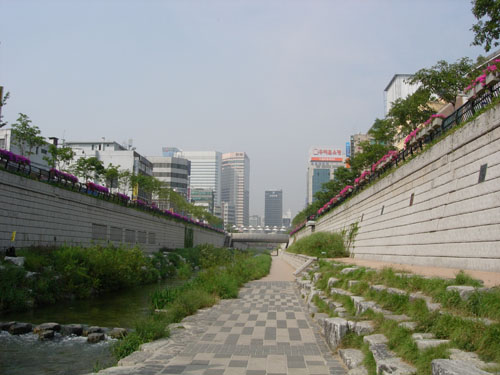 Looking back upstream at the Seoul Downtown