Disclaimer - Our apologies for our inability to report 'breaking news' here in Korea. We're not referring to the current Nuclear stand-off of Kim vs. the World, rather we want to tell you our diligent readers about something that happened a week and a half ago.
Last weekend October 15th, we were headed in to Seoul for a dinner with friends. As we were walking by Anyang Central Park we heard loud music. Our rule of thumb so far in Korea has been that we don't know when we will see interesting stuff, but when it happens we just need to go with it. In this case, the music we heard (in the middle of the afternoon) was the festivities going on in the park for the Anyang Festival. This festival it seems is put on by the city of Anyang, celebrating our city of over 1,000,000 inhabitants. We decided to stroll around for a little bit and were amazed with what we saw. As we walked into the park the walkway was adorned with sculptures covered completely in mums. These beautifully coloured fall flowers were arranged in patterns such as birds, the Korean flag, pagodas, even Jesus on the Cross!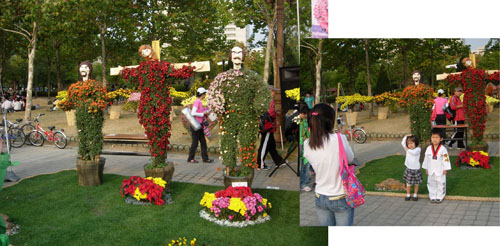 Above: Capture those memories - children pose in front of a depiction of Jesus (and the two thieves) on the cross - made entirely out of mums!
Below: A mum pagoda and Buddha (yellow), creations at the Anyang Festival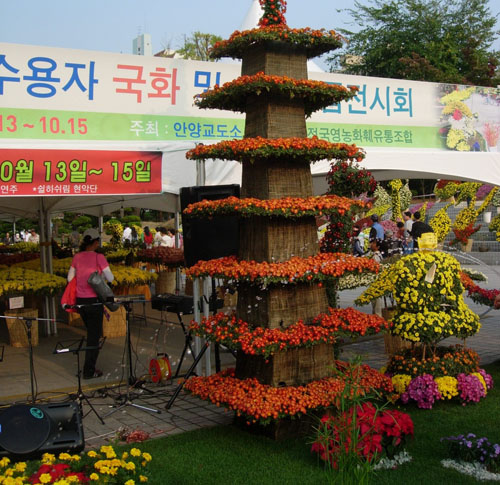 As we continued strolling around the park, we noticed there was a huge stage set up in front of the main fountain in the park. On the stage was a familiar site that we have witnessed several times now in Korea: a scantily clad group of dancers dancing and lip-syncing to well known western songs. What came next was an unfamiliar site - a Marching band dressed in full red suits (very Harold Hill in the Music Man) playing their march over the sounds of the pop music that the dancers were still pretending to sing to only 100 yards away. Following the marching band in this impromptu parade were several groups that ranged from Men on stilts, people in animal costumes, rollerbladers and belly-dancers. The groups marched around the park to in front of the stage. When the music stopped, and the marching band proceeded to play Rock Around the Clock. As if this sensory overload wasn't enough, the other people in the parade (including the belly dancers) moved in front of the band and started to dance, very slowly and liturgically, to the band's song.
Ohh La La!

No Marching Band should be without its entourage of belly dancers.
Later that evening we returned to the park on our way home only to discover that a rock concert was going on. There must have been at least 10,000 people crowded around the amphitheater - style common area. For those who give two hoots about the tech side of things - the stage was at least 18 feet by 36 feet with a main truss and several secondary trusses holding at least 50 stationary lights and another 30 intelligent lights, not to mention the 'bat signal' type search lights that were projecting into the sky. With two guys in a tower about 40 meters back operating follow spots. There were two huge projection screens allowing those a little further back to get a good view of the action.
Central park makes a perfect concert venue, just add about $200,000 worth of tech equipment.

And the fireworks that followed were amazing.
The band didn't play anything that we recognized but it was a great atmosphere. Following the concert there was a spectacular fireworks show, that lit up the sky. It wasn't as long as Canada Day at the Brubacher House, but there were varieties of fireworks that we had never seen before. The other thing that was interesting was that usually we view fireworks in the distance, but these were let off directly over our heads which made for an exciting spectacle.
We've already marked this weekend on our calendar for next year as we may know a little more Korean to understand what is going on. Nevertheless, the international understanding of how to have a good time was front and centre in this great festival that took place a 5 minute walk from our house.