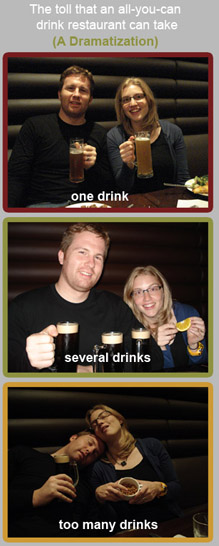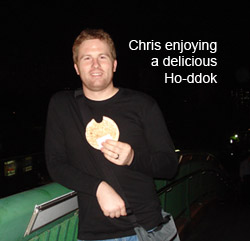 We are happy to say that we were responsible in our consumption of alcoholic beverages, unfortunately we were not as responsible with our consumption of food... it was delicious! After the 40 minute subway ride we found that we had a little bit of room left when we came upon our local Ho-ddok stand. Ho-ddok is a delicious Korean 'street treat' - basically it is a pastry filled with a sugar and cinnamon mixture - comparable in taste to 'beaver tails' but served fresh and piping hot. You can buy them for a mere 70 cents and they are quick become an addiction.
* * *
On Sunday we accepted Jon Bowman's invitation to join him at Seoul Racecourse Park to watch the horse races. While we found the park closed over Chuseok 2 weeks ago, it was certainly open this year. The racecourse is situated on the former equestrian grounds used for the '88 Olympics nestled in the beautiful hills around the Seoul suburb of Gwanak, only 6 subway stops from Anyang. The original grandstand (below) that holds 40,000 people is flanked by a new enclosed grandstand with a capacity of 30,000. When you add the space that has been converted to a children's park in the infield of the course, it is not uncommon for the racecourse to have a capacity of 100,000 on a Sunday afternoon.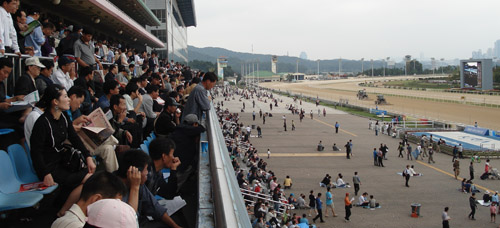 Since we had never been to the race track back home, this was a new experience. When we arrived at the park we right away got to look at some of the horses that were featured in the upcoming race. Basically what happens is the horses are brought out to a show track (below) where they are marched around for the spectators and the racing experts to analyze and scrutinize before the race. After about 10 minutes of marching, the jockeys are brought out, they bow to the crowd and then mount their horses and proceed on to the track.
From about 10 am to 6 pm there are 12 races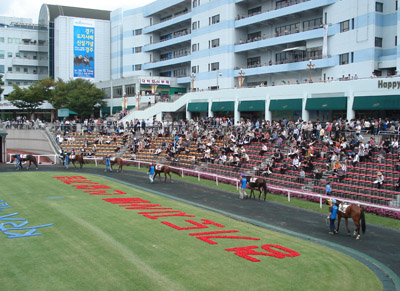 occurring every 1/2 hour or hour. While the grandstand is full of spectators (mostly smoking men) the interior of the grandstand is full as well - mostly of people sitting in front of tv screens with race info and stats. Everywhere you turn you can see betting kiosks. The minimum bet is 100 won (10 cents) and the maximum is 100,000 won ($100). It was pretty difficult trying to figure out exactly how the betting process works. We asked another foreigner who sort of knew, but then we finally found the foreigner's lounge with English info on the betting process and all the race info (horse's names, weight, age, last races, previous winnings etc...).
There are about 16 different ways that you can bet on races. Besides picking a winner you can pick a horse to place (1st, 2nd, or 3rd) following that you can choose from options with names such as exacta or quinella... *editor's note - chrisandjill.ca strives to provide information about what is happening in our lives in Korea so we have omitted the boring details about race logistics etc... and now back to our regular blogging.
We decided to jump right in and bet on a couple races. Since last Friday was payday, we were really tempted to bet our entire paycheques but common sense won out and we bet 1,000 won ($1) on each race. We also decided to choose our horse to place instead of winning. While the payout was a little less we figured our chances for success were greater. In a total of 5 races Chris was shut out of the winnings and Jill won once but the odds of her horse placing were 1.4 so she really only made 400 won (40 cents) profit. All in all putting a dollar on a horse was a great way to keep things exciting, just like going to a movie, only cheaper.
After having our fill of second hand smoke we ventured under the track and across to the infield. The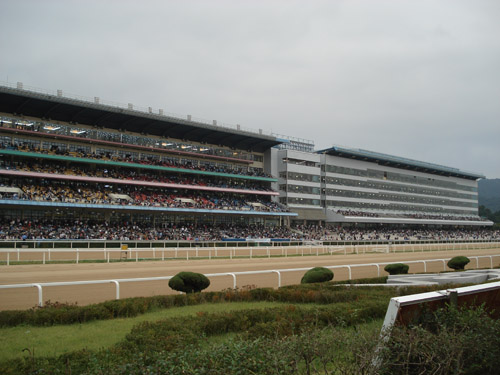 children's park was huge and full of kids, it was really not something you would expect at the racetrack, but a really great way to get the kids addicted early. From the infield, the view of the grandstand (right) was remarkable, it was absolutely huge. Around 5 o'clock, as the sun was setting, it began to rain so we took that as our cue to head home, but we really had a great time and might try to go back once more before our time in Korea is up.
Later on that evening we heard the loud banging of fireworks coming from down the street at Central Park where the Anyang Festival was taking place. We quickly walked down to the rooftop of our academy, where we could get a good view of the park. All in all a great end to a fun weekend. We have realized that we have a great deal to be thankful for here in Korea, but also for all of the people important to us back home. We can't wait to visit with so many of you, but connecting this way will have to do for the next two months.
We hope that wherever you are this weekend you can take some time to reflect on what you have in your life to be thankful for.
All the best!!!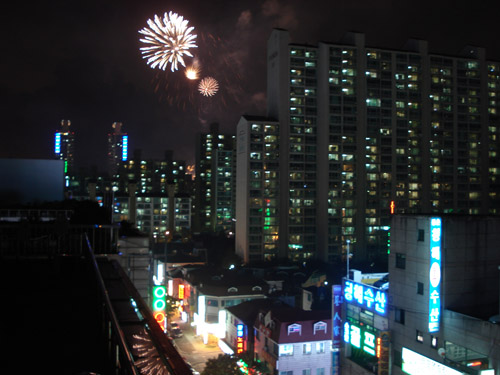 fireworks over our neighbourhood seen from the YES academy rooftop