We left yesterday with high spirits and a great deal of excitement for our first trip to the sunny Philippines. Here are a few of our thoughts through out our trip:
* please note today's blog has a sad ending so be prepared to read on to the next day's entry.
Saturday
5:00 pm Beomgye Station
We headed down the street to catch the airport limousine. Next stop Inchon International airport. Did we remember everything?
7:45 pm Inchon Airport – gate 49 – Local Temperature 18 degrees
| | |
| --- | --- |
| One charming thing about the Korean people is that when they are in love, it's unacceptable to show it in the form of physical affection so they compensate by dressing like twins. Walking through the airport waiting area we are struck by the dozens of couples we saw wearing matching outfits - some just matching shirts, some chose clothes that were the same style but different colours, and some took the cake for even having matching shoes. | |
11:40 pm Manila International Airport, Philippines
Local Temperature 32 degrees Celsius
Following the Korean winter we forgot what heat was, it is hot!!! We were really excited to make our way through customs because waiting for us were our dear friends Ange and Nick. They are teaching in China right now and we were able to sync our vacation plans well enough to arrive within 20 minutes of each other – how's that for travel savvy!
1:00 am Copacabana Hotel Manila – temp still 30 degrees!
"At the copa, copacabana the hottest spot north of…" After a sketchy walk through a scary part of town – to find a convenience store, we are ready for bed. Our impressions of Manila are not the greatest at this point, a lot of visible poverty. Lots of people panhandling for money or giving you evil stares – but everything looks better in the morning.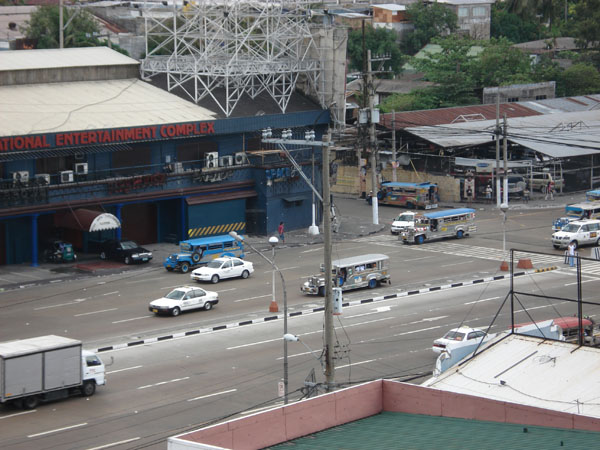 The traffic outside our Manila hotel
10:00 am The Mall of Asia
As usual, we were right, Manila isn't that bad – there are a lot of things that remind us of Havana, Cuba. Different from Cuba – capitalism is king here – and this is never more evident than at the SM Mall of Asia.
Heralded as the 3rd largest mall in the world, it didn't disappoint, they had everything in this place – including a skating rink – watching Philippino kids skate is funny! With some time to kill before our 1 hour flight to Boracay we searched through some stores and had a wonderful Mexican meal.

Nick trying his darndest to support the big globe
outside the Mall of Asia
3:30 pm Caticlan Airport – across the bay from Boracay.
We have arrived at a small airstrip in the town of Caticlan. We follow the other tourists and take a quick 10 minute scooter ride to the Caticlan Jetty port, where we board an odd looking boat with timbers on both sides (that look like pontoons) used for stability. Watch video of this boat ride
The blue waters of the Pacific from the air and the scenery on the ground outside our small airplane.
4:00 pm La Carmela De Boracay Hotel
After taking a ride on one of the local 'taxis' (see video of our taxi ride)we walked towards White Beach – the famous attraction of Boracay, to find our hotel. To put it mildly our first impressions are that it is absolutely horrible. The hotel must have over 100 rooms and the straight long hallway seems more like a dormitory than a hotel. The view out of our room looks out to what seems like a shanty town. We are the lucky ones because Ange and Nick have their room on the left side of the building which looks out to a 6 metre high cement wall that stretches the entire length of the compound. Our shower is a trickle with no hot water and our door knob looks like it is about to fall off – very safe! There are no beach umbrellas or recliner chairs to be found in front of the hotel and the pool is full of 5 year old children. (We quickly posed the question: "weren't we taking a vacation to get away from yelling kids?")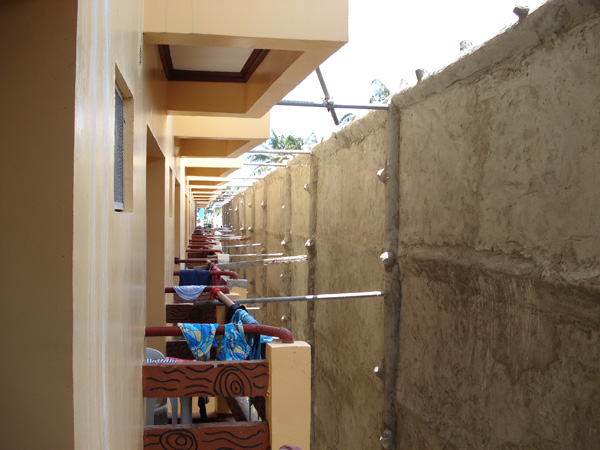 Public disclaimer: unless you like the scenic view of a cement wall don't stay at La Carmela Hotel in Boracay.
This was hardly an amusing start to our vacation
5:15 pm White Beach – Boracay
The beach is crowded, there are tonnes of people, it has rather nice sand but it isn't as wide – from shore to tree line – as beaches on the Lake Huron Coast or in Sarasota that we have been to. Basically our hotel opens right on to this beach (picture having a cottage that opens onto the main beach at Sauble Beach). Jill and I took a walk down the beach and the water was super warm but we quickly got tired of the 5 people per minute who ask us if we want to go parasailing in the morning.
7:00 pm Mongolian Grill
The sun has just set and we are strolling down the beach, it is really nice at night. All the restaurants along the walk have tables set up and most offer a buffet meal for a very cheap price (aprox. $5.00 CDN). We have settled on a place called Mongolian Grill – for those who have been to the one in Waterloo – this one is very similar. You choose the food and they fry it up for you and serve it with rice. Very delicious, so were the $1.00 beers!
9:00 pm Back at 'the Dormitory'
We are back now and feeling pretty beat from a long day of traveling. We will watch a little bit of TV and then hit the hay (not it's not that bad the mattresses are actually comfortable).
1:00, 2:15, 3:12, 4:45 am
We continue to woken up by partiers on the beach. Even though we are about 75 meters away, sound really carries. Ange even swore she heard mostly kids yelling at the 3:12 time slot.
As Scarlet O'Hara once said: "Tomorrow is another Day", but she only had to make it through the Civil War and save Tara, she never had to stay at La Carmela.