This weekend was our first long weekend since the first week of October. The occasion: Seol-nal - the Korean Lunar New Year. As was mentioned in an earlier blog Koreans celebrate both the calendar New Year and the Lunar New Year. The difference between the two? As far as we can tell: December 31st is a big time party with friends while the Lunar New Year is steeped in tradition for many Koreans and is important to spend with family.
When we have asked our students and fellow teachers about the holiday they gave us these tidbits of information:
The traditional food of Seol-nal is Dok Kook which is a soft rice-cake soup with dumplings, eaten on New Year's morning.
After the morning meal most families go to the cemeteries where their ancestors are buried, in order to honour and remember they as they ring in the new year.
At Seol-nal the highways of Korea are completely packed with people leaving the city and returning to the country to be with their relatives.
The formal greeting for Seol-nal is Sae-ie-bok, Man-i-pa-de-say-o.
As Chris gave this greeting to one of his classes, his students informed him that to say that to a younger person means that it comes with the expectation of a monetary gift.
Beyond Chuseok (Korean Thanksgiving) this is the second most important holiday of the year.
And perhaps most significant to we non-Koreans, Seol-nal is a 4 days of no work!!!
So now the only question was: what do we want to do with our holidays?
Knowing that travel within the country would be incredibly difficult, and 4 days is a little short to head out of the country, we decided to do a bunch of stuff around Seoul that we have been putting off for a while. So here for your reading pleasure is the account of the first 3 days of the Seol-nal vacation:
THRUSDAY
10:30 pm
School is done, hello vacation! Our 4 days off begin with a party at Neil's, one of the teachers who lives on the 7th floor of the school building.
FRIDAY
1:30 am
The party is still going strong - so we're all off to Noribang (Karaoke).
3:00 am
After a trip to McDonalds - we're finally home - a long day awaits tomorrow after a good sleep in.
11:00 am
Woke up checked some emails, chatted with some folks on Messenger.
2:30 pm
Chris heads off for a little basketball with the boys at Central Park.
5:00 pm
We head in to Seoul, destination: the COEX mall.
6:00 pm
Dinner at the Movenpick Restaurant then a little browsing around the mall - including the english book section at Bandi and Lauri's bookstore.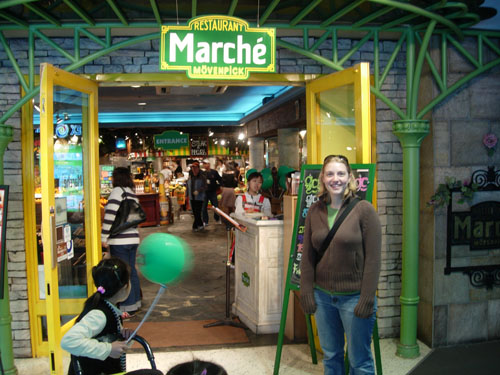 9:00 pm
We arrive at Costco on a quest for cheddar cheese, cream cheese, sour cream, salsa, bagels and nachos.
10:30 pm
We arrived home and fell asleep instantly.
SATURDAY
10:00 am
Wake up - Chris watches the NBA Rookie-Sophmore game live.
3:00 pm
Depart for Seoul again - today's first destination is Insadong, a popular location for Korean arts and crafts.
4:40 pm
Some browsing around the main street have yielded some great gifts to send home.
5:30 pm
We arrive at Dongdaemun to look for some cheep bargains - we came away with a couple of shirts. The picture below shows the proximity of old and new, vendors and the Dongdaemun gate.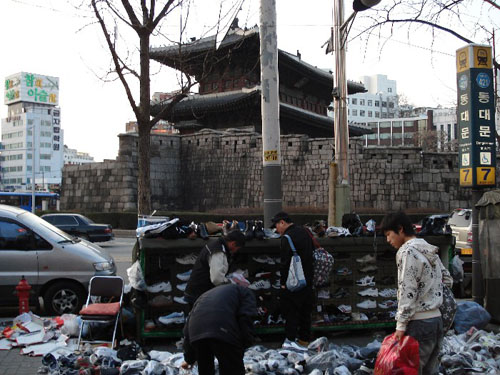 6:30 pm
The sun has set, and we are back on the subway, destination: Nam-san and the observation tower above Seoul.
7:30 pm
Atop the Seoul tower, the view is breath taking!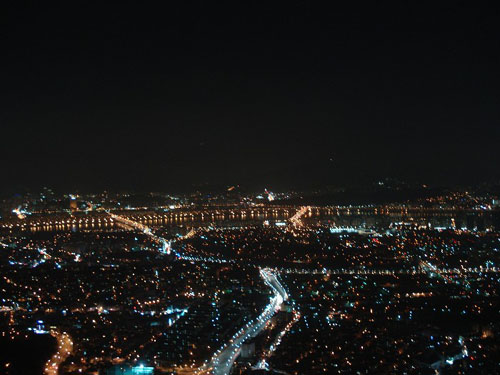 Walking around the observation deck we can see the distances to cities around the world displayed in the direction of that location. Below Chris looks out towards Southern Ontario a little over 10,000 km away.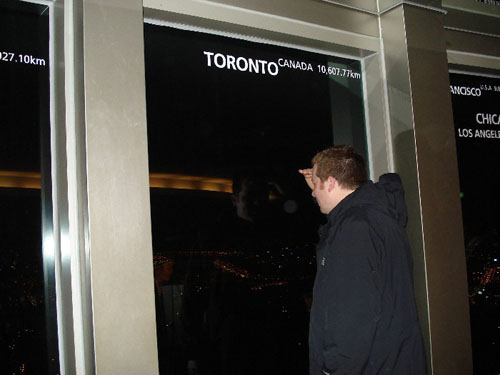 To view more pictures from the Seoul Tower like the one below, got to the pictures page.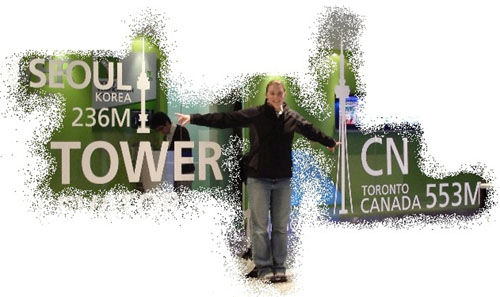 10:00 pm
We're finally home, after a bite to eat (mmmmm taco salad) we begin watching "The Departed" our first film of the 5 oscar nominees. We hope to watch all 5 in the next 2 weeks.
SUNDAY
10:20 am
Today is the actual New Year's day. Our plan for today is to head to the Korean Folk Village with Angela, one of the Korean teachers from our office. When she came over, she brought us some Dok Kook to start our new years off with a bang.
11:30 am
We have arrived at the Korean Folk Village. One of the first attractions is a wishing rock covered with rope. People write their wishes on pieces of paper and then tie them to the rock. Below is a picture of Jill doing just that.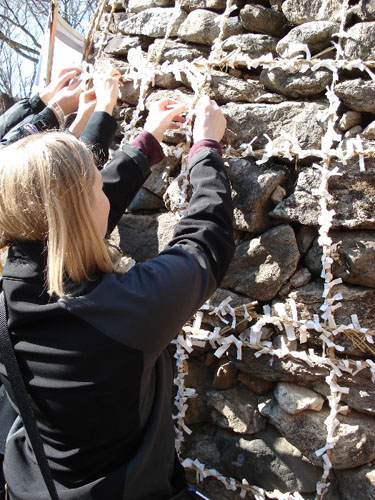 3:30 pm
We are getting ready to leave. The Folk Village has been pretty cool. Being retired museum curators it was nice to walk around the grounds, but refreshing to see some Korean history for a change - rather than the History of the Brubacher family. Below is a picture of one of the many colourful performances special for New Year's day. From dancers, to equestrian riders, tight rope walkers, and other acrobats you can see more from the Folk Village on the pictures page.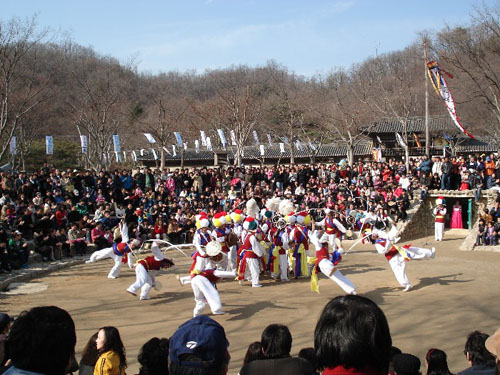 5:00 pm
We're back home, with every intention of staying home for the next day an a half!
Items on the horizon:
Make pasta for supper
Watch "Little Miss Sunshine"
Watch the NBA all star game Monday morning at 10 am
Just relax! and get lots of sleep before school on Tuesday morning.
Sae-ie-bok, Man-i-pa-de-say-o!!! Happy New Year - no money attached!